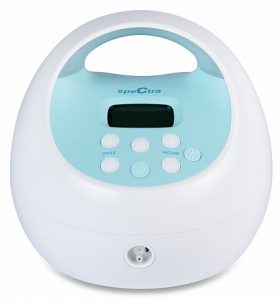 (comes with the Rechargeable Battery, weighs at 3.3 pound)
Product: Spectra Baby USA S1 Hospital Grade Double Electric Breast Pump
Price: $179.95 (free shipping)
Cheapest Place to Buy: eBay.com
Also Available at: Amazon.com($179.99 – free shipping), Walmart.com($199.00 – free shipping), SpectraBabyUSA.com($199.00)
Product Weight: 3.3 lbs
Model Number: SPS100
Warranty: 2-year Warranty
My Rating: 5 out of 5 stars

At a Glance

Super silent and discreet
A hygienic breast pump because of its closed system
Allow multiple user-sharing
Suction is powerful enough to encourage the secretion of milk
Comfortable breast pumping experience
Long recharging time
Bottles seem not durable enough to last for a long time
Spare parts are not easily available
Contains digital controls for suction, pressure, speed and rhythm
Contains a night light, a timer and an LED display
Contains Massage and Expression modes

Spectra Baby USA S1 PLUS Double Breast Pump can be your solution…
If you are looking for a top breast pump that is handy enough to use while traveling along with a rechargeable battery, then Spectra Baby USA S1 PLUS Double Breast Pump can be right for you. Faring at around $199 on SpectraBabyUSA.com, you are getting not just comfort but efficiency. It is portable (has a handle, has a built-in rechargeable battery and can easily fit inside a baby bag), light (think of the 4 normal-size apples or 1.1 kg) and can be used several times a day without the breasts getting sore.

Adjustable Digital Controls
It has a letdown mode and a fully adjustable program that you can choose to suit your body's comfort best. The suction is powerful enough to encourage the secretion of milk, yet it is comfortable enough for you so that you will not even feel how powerful it is. In fact, the suction pressure of this pump can go up to 350mmHg (some brands only reach a maximum of 250mmHg). Despite the increase of the suction level, there is absolutely no discomfort. It is because of the presence of digital controls that allow for suction, pressure, speed and rhythm.
Noise Prevention
To keep it from making a loud noise, you should place it on a flat level surface. It is vital to do so as unwanted noise due to the angulation of the pump piston can be eliminated. You should also ensure that the tubing is attached to the pump with no sharp turns or kinks, which can obstruct the flow of milk and cut off the suction. Doing all these things can prevent the breast pump from creating too much loud noise.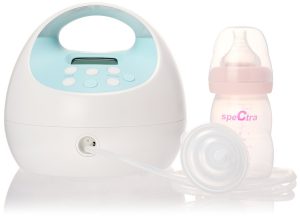 What I like about the Spectra Baby USA S1 PLUS Double Breast Pump
At first, it will seem that this breast pump is not working (because it does not produce noise nor show any indication that it is working – it is super quiet), but it surely is as you can see the breastmilk is expressed smoothly. It is super silent and discreet so that it will not disturb your baby's or its daddy's sleep when you are pumping milk. As such, you can use it anywhere and anytime you want because it will not grab any attention from the other people around you.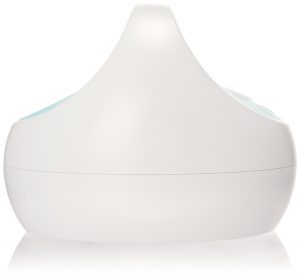 A Hygienic Breast Pump…
It is also a hygienic breast pump because of its closed system that is supported by its back flow protectors, which means that it is leak-proof and the milk has no access to the outside environment. As a result, you can be assured that there will be no contamination of harmful microorganisms nor mold formation in the surfaces that can bring about the development of diseases in your baby. Milk, therefore, will also not be in contact with the pump motor thus making it more hygienic and even great for multiple user-sharing (all that other user needs is her own pair of breast flanges, back flow protectors and valves).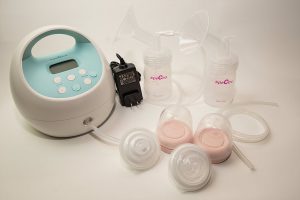 Awesome Features
Spectra S1 PLUS Double Breast Pump has a night light of its own, which enables you to breast pump at night or even in the wee hours. Another impressive feature of this pump is that it can automatically shuts off after 30 minutes say mom falls asleep, thanks to its built-in timer.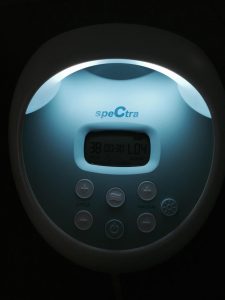 This hospital grade pump is both capable of pumping single and double. There are two holes at the front where tubings can be connected. This is a closed system, so definitely you can share it with your friends or reuse it. The tubing is mainly made of silicone, and is very much flexible.
Two special features of this Spectra Hospital Grade pump are the Massage and Expression modes. In Massage mode, it mimics a baby trying to suck out milk from your breast that you can adjust it for up to 70 suctions per minute. Later, it transitions to Expression mode which simulates how the baby nurses after the milk has let down. You can start with the Massage mode to stimulate a letdown, and when milk is already flowing, you can adjust to Expression mode so that breast milk production is maximized. For a second and third letdown, you can go back to the Massage mode.
The Spectra Hospital Grade pump has an LED display that shows the mode that you are currently on (Massage or Expression), your suction level and how long have you been pumping. The suction strength can be adjusted according to your preferences. The Spectra Hospital Grade pump builds up and maintains breastmilk efficiently. Remember that a key to healthy amount of milk supply is replenishment and this is what this pump does – it is powerful enough to keep the breast producing more!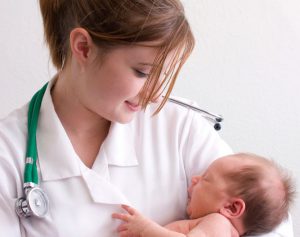 What I do not like about the Spectra Baby USA S1 PLUS Double Breast Pump
One tiny drawback of having both of the Massage and Expression modes is that the pump starts on Expression mode so if your previous session ended at suction level 10, you start the next session on that note which could be a bit "shocking" (just imagine that pressure shoots up right away from the start!).
I found that this product takes a long time (like 12 hours) to be fully charged. The nightlight feature can easily drain the battery life. The bottles also look like they are not durable enough to last for a long time.
Hard to Get Spare Parts
Another downside is that when the pump malfunctions, the spare parts are not easily available in the local retail stores. Be cautious in losing the parts and you may have to take preventive action to store some spare parts as well as expect very long lead time during the ordering process since they are not available in many stores. Update: The situation definitely had been improved nowadays, where parts and accessories are conveniently available in local retail as well as online stores. One online example is www.SpectraBabyUSA.com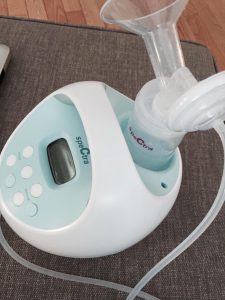 Experience the Spectra Baby USA S1 PLUS Double Breast Pump's unique features today…
Overall, in spite of those minor setbacks, Spectra Baby USA S1 PLUS Double Breast Pump is still the moms' top choice. This product is said to be the most advanced hospital-grade breast pump available in the current market, as it comes with so many awesome features. It is quick, efficient, quiet, customizable and has a good letdown mode. In fact, it is quieter than the other brands and is more comfortable. It is also lightweight, affordable and has a motor life of 1500 hours. This breast pump is highly recommended for heavy duty pumping – one of the top rated breast pumps to date!
Buy it here now and experience its unique features today!
Let us know if you have any questions about Spectra Baby USA S1 PLUS Double Breast Pump, or you have any comments, stories or experiences you would love to share with fellow nursing mamas. Please feel free to leave your comments below and I will be more than happy to come back to you shortly!
Summary
Reviewed By
Review Date
Reviewed Product
Spectra Baby USA S1 PLUS Double Breast Pump
My Rating